Thomas Jefferson – 5 Things You Didn't Know
Thomas Jefferson remains an American hero for his efforts in the American Revolution, his wording of the Declaration of Independence and his influence on the presidency. His well-examined life contains some surprises that the average American doesn't know. I'll surprise you with some obscure, yet fascinating facts about Jefferson.
Jefferson preferred to sleep sitting up. He felt it was better for his health. He read for half an hour to an hour before going to sleep.
Over his lifetime, Jefferson accumulated a remarkable personal library. When the British burned the Library of Congress in the War of 1812, Jefferson came to the rescue by selling his collection of beloved books to the U.S. government. His 6,707 books helped establish a new collection in Washington, D.C. He missed his books so much, that he immediately started buying more books for himself.
In his home, Monticello, Jefferson created a dumbwaiter to have wine sent from the wine cellar up to the dining room. It used a system of pulleys so the servants could unobtrusively deliver the wine.
In writing the Declaration of Independence, he deliberately worded it to avoid a state endorsed religion. "All persons shall have full and free liberty of religious opinion; nor shall any be compelled to frequent or maintain any religious institution." Jefferson strongly believed in separation of church and state. When he designed the campus for the University of Virginia, he did not include a chapel as he did not want a single religion associated with the college.
 Thomas Jefferson used a stylus with two pencils that made a copy as he wrote. Another gadget that he had used special ink that was then imprinted on a separate piece of damp paper. Just imagine, copying machines in the early 1800s. During his lifetime, he wrote more than 18,000 letters.
I recently visited Jefferson's home, Monticello in Charlottesville, Virginia. It's well worth making a pilgrimage to this World Heritage Site. The scenery, the magnificent home and grounds, the informative museum and most of all, the chance to learn more about this man. His vision has carried this country forward for over two centuries and influenced human rights in countries all over the world, from France's revolution to changes in countries throughout Europe, South America and Africa.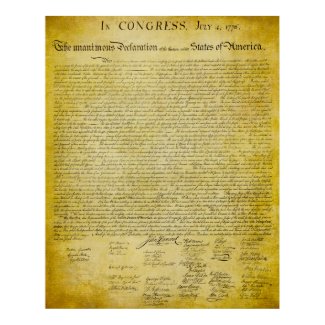 Declaration of Independence Print by Libertymaniacs.
[socialpoll id="2276086″]
Share with your friends
To report this post you need to
login
first.